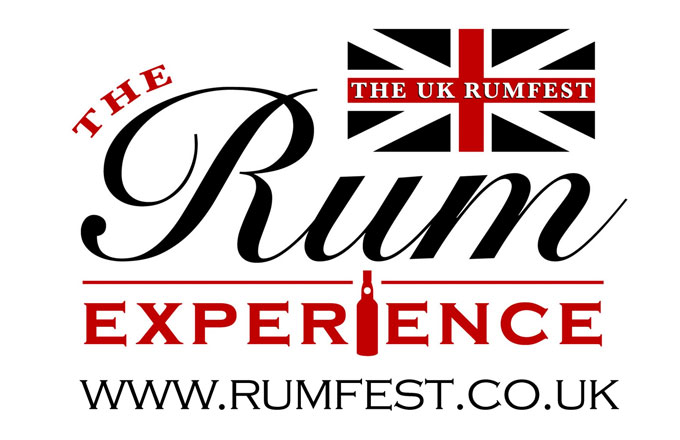 Förra året höjde UK RumFest ribban ordentligt för alla rom-festivaler. Tyvärr hade vi inte möjlighet att åka då, så vi är nu extra uppspelta över att planera vårt besök till UK RumFest 2015.
Festivalen (eller mässan som vill vi hellre se det som) går av stapeln lördag 17 oktober och söndag 18 oktober. (Vill du få ut ännu mer rom-upplevelse, så har vi tidigare tipsat om Rum Experience Week!)
Det är nionde året som UK RumFest hålls i London, och vi ser tydligt hur de har jobbat år för år med att förbättra och utöka upplevelsen. I år utlovas bland annat provningar, seminarier, Master Classe, tävlingar, rom-aktioner (Christie's!), produktlanseringar – och då har vi nog missat hälften.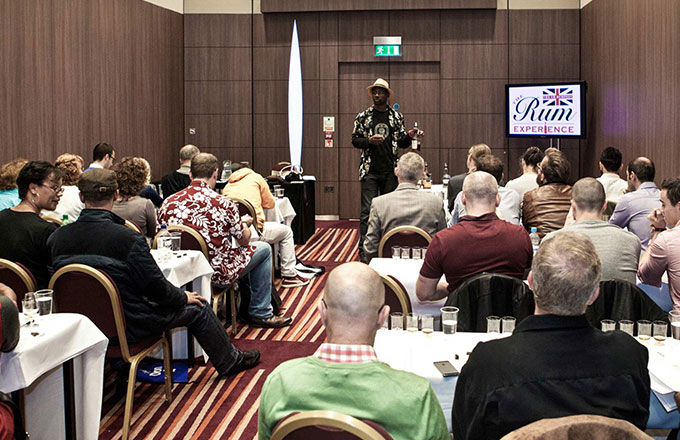 Biljetter går att köpa för lördagen eller söndagen – eller för hela helgen. En vanlig biljett för en dag går på ungefär 650 kronor, och VIP-biljett går på strax över 950 kronor. Det går även att köpa biljetter för hela helgen. Så inträdet kostar en slant – men i utbyte så har UK RumFest lyckats förflytta sig från ett "party" till en mer fokuserad mässa! I VIP-biljetten ingår "exclusive early entry, a two course Caribbean lunch and a goody bag"
Vi är mycket spända på att se vad Ian Burrell och hans medarbetare har lyckats sätta ihop för rom-upplevelse på UK RumFest 2015!
All information som du kan behöva finns på rumfest.co.uk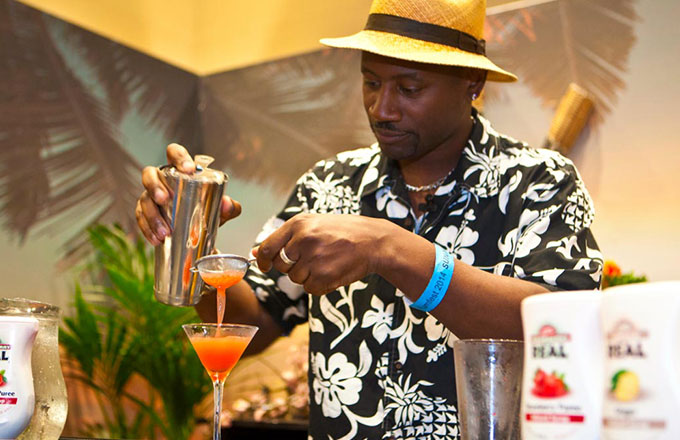 Sammanfattad info (på engelska)
Om du vill slippa leta runt på RumFests hemsida, så kör vi hela pressreleasen här (på engelska):
RumFest is set to return to the capital this year, with its most comprehensive offering to date. Rum aficionados and newcomers are invited to immerse themselves in one of the world's best loved spirits with masterclasses, seminars, cocktail making and quality tastings. Over 400 of the rarest and most diverse rums in the market will be showcased at the event, which has become the one-stop resource for rum lovers up and down the country for the past nine years.

The Golden Tot returns in 2015 providing access to the ultra-premium rum offerings and new private and intimate tastings will give discerning drinkers the chance to discover the rarest rums from around the world. The jam-packed programme will also feature cocktail making competitions, a Christie's rum auction, incredible food and the party atmosphere of Carnival Hour. Tickets are on sale from £49.95, including a new VIP package priced at £75 that allows for exclusive early entry, a two course Caribbean lunch and goody bag. Tickets and more information are available now from the RumFest website.

The ninth annual RumFest is already on course for its best year yet, taking rum lovers on a voyage of discovery through the glorious world of rum. Launched by Global Rum Ambassador Ian Burrell, The Rum Experience's RumFest has become one of the biggest events on the rum calendar and caters for everyone who enjoys a tipple, from novices to fully fledged rum connoisseurs. 2015 will see RumFest soar to new heights thanks to a refined, rum-fuelled programme set to both educate and entertain. Whether a keen rum enthusiast, all-round spirit lover or new to the category, RumFest is the one-stop shop for all to embrace rum as a lifestyle choice.

A day ticket to RumFest gives attendees unrivalled access to try and buy over 400 different blends from around the world. Following the success of last year the Golden Tot tokens return. Available on the day for just £5, the Golden Tots open the doors to rum's elite and allows the more serious rum enthusiast to try rums that usually retail for over £200 a bottle.

The ninth year will see prestigious, exclusive launches from veteran brands such as iconic British rum brand, Lamb's Navy Rum who will launch the first single cask liquid as well as allowing anyone who purchased the Golden Tot token a chance to win a full single cask bottle from the second batch. Newcomers will also be welcomed to the rum scene with Matugga Rum, a new producer of premium East African accented sipping spirits who will be launching two variants of their premium rum as well as Gold of Mauritius, a unique rum made from 100% Mauritian distillates conditioned in South African port barrels & blended in small batches for an extraordinary taste. Tastings and experiential activations will also be presented from brands from all over the world including Diplomatico, Bacardi, Duppy Share, Havana Club, Botron, Don Q and many many more ensuring RumFest is THE place to visit this October.

Seminars and workshops take place across the two days where brands, ambassadors and leading industry figures give an in-depth insight into the world of rum including rum and food pairing and the making of rums. Top blenders, mixologists and distillers will also be on hand to teach ticket holders the art of cocktail making as well as more ways to enjoy their favourite rums. In a new move for 2015 RumFest's trade sister show Boutique RumFest will make an appearance across the two days, giving the rum super fan unprecedented access to selected rums with private tastings that have previously been reserved only for those who work in the industry.

Other highlights for 2015 include the return of RumFest's Auction in partnership with Christie's auction house. A must see for this year, RumFest is hoping to smash last year's grand total where over 20 precious and rare rum were sold off for charity. The RumFest's famous food offering will deliver mouth watering cuisine from exotic rum making locations and temperatures are set to rise with live stage demos showcasing rum pairings, cooking demos, cocktail competitions and more. Carnival Hour rounds off the RumFest experience each day in the ultimate party finale, featuring live bands and dancers that embrace the fun and social spirit of rum.

RumFest Founder and Global Rum Ambassador Ian Burrell is the leading name in rum. Dedicating his life to promoting rum and rum culture around the world, over the years Burrell has been recognised with a number of industry awards as well as regularly appearing as a rum expert at events and on television shows like Sunday Brunch, the Alan Titchmarsh Show and more.

Speaking about the return of RumFest Burrell says, "We've refined RumFest this year into something very special. We'll be taking rum lovers on the UK's biggest celebration of rum, showing them the fun side of the culture, while at the same time giving an insight into the spirit so they can take home what they've learnt, armed with a better understanding of the spirit."

The RumFest takes place in London at the ILEC, 17th to 18th October 2015. Standard day tickets are now on sale at £49.95, which includes access to all areas of the the event and tastings from all exhibitors. VIP tickets are on sale from £75 and allow for early access of one hour ahead of standard ticket buyers along with a two course Caribbean lunch and RumFest goodie bag. Golden Tot Tokens are £5 each and allow for additional access to the more premium rums on offer. One token can be exchanged for rum retailing £80 – £100 and more expensive rums will be available for additional tokens. Tickets to the new private rum tastings will be announced soon. For full information on RumFest and to buy tickets head to rumfest.co.uk.