Vi fick möjlighet att ställa lite frågor till vinnaren av den svenska deltävlingen i Bacardi Legacy, Kaitlin Wilkes. Det blev på engelska – och för att inte komplicera allting så väljer vi att publicera både frågor och svar på engelska!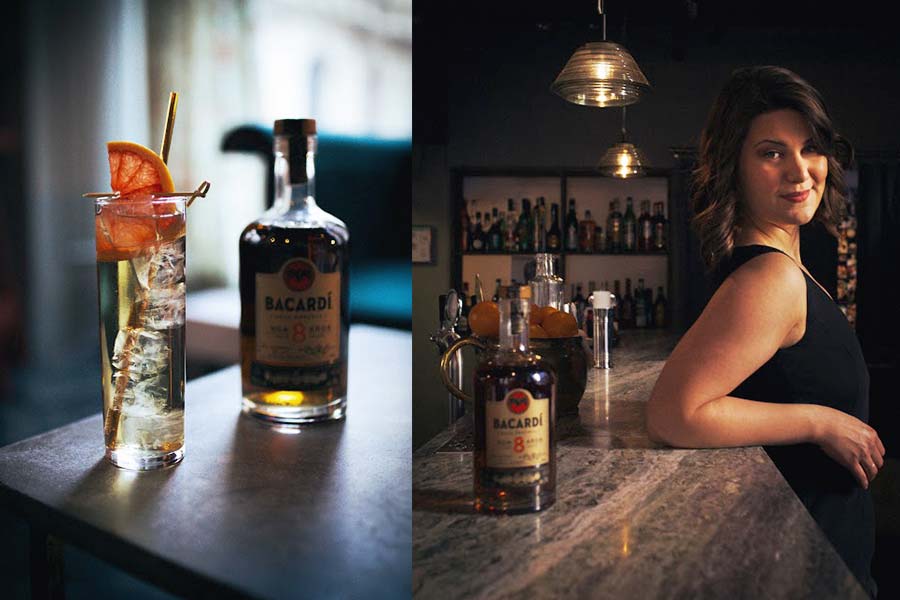 How did you learn about Bacardi Legacy?
I first learned about Bacardi Legacy in 2013 when my friend Tom Walker was entering for the UK when we worked together at the Savoy. I remember watching Tom go through recipes and ideas, and when he nailed the 'maid in cuba' I told him straight to his face the night before he left for Moscow, "call me when you win." So after seeing him win the global competition in 2014, I knew that if I ever stepped behind the bar (at the time I was a cocktail waitress in the American Bar) it was definitely something I wanted to compete in!
How did you experience the competition? Have you participated in similar competitions before?
After seeing Tom go through that and my college Oskar Johansson enter Legacy 2015 and again in 2016 and become successful for Sweden last year, it just seemed super evident this was something I wanted. Experiencing this kind of challenge is quite unique. You're literally putting forward the idea of building a legacy, it isn't just about a cocktail but it's about the story and the execution of how you're going to build it and put it all together… it's extremely challenging, but thats what makes it so exciting! I've done World Class for Sweden (finalist), Beefeater Mix London, Hernö Gin Awards and the Stoli Elite Martini Competition (2nd Place) but never actually won! So when it came to winning in London for Gonzo in Bacardi Legacy, seconds before the announced the Swedish winner, I completely doubted myself. But when my name was called and my cocktail appeared on the screen… I don't think I will ever forget that moment, ever. It was completely surreal and incredibly exciting.
What has been the best thing about participating in Bacardi Legacy (so far)?
The best thing has been connecting with people all around the globe. The idea of legacy is to spread your cocktail and story as far and wide as possible, and to connect with someone in another country I've never been too, is quite cool.. you begin to realize how small the industry becomes. What's even more exciting is how willing people are to help you.
What has been the biggest challenge (so far)?
Being certain of myself. Maybe that's a bit cheesy, but in all seriousness, I'm that person that wants to take in a second opinion (even if I don't agree with it) because I truly want to make sure I'm putting forward something I agree with 100%. A second opinion is important because it gives you the time to sit and think "hmm is this exactly what I want and what I mean?"
Why do you think you won the Swedish race?
Ask the judges! hah, not to be funny, but seriously, I didn't evaluate myself, so it's hard to say! I just showed up with a cocktail I believed in and a story that sits close to my heart. Not too many people know about my 'blogging' career… but it really has been something I go to, through serious phases of pursuing. I really truly believe writing things down is a way to formulate your idea fully and work through something, and my personal blog has been there for me since I embarked on my adventure 5 years ago.. So maybe I won because my cocktail was different (no citrus, and not an old-fashioned style, or daiquiri twist), or maybe I won because my story was significant to the judges… or maybe my sassiness resinated, or maybe it was just because my genuine passion for what I was doing shined… honestly, I haven't got a clue!! But I couldn't be more wow'd by it all!
How will you be preparing for the final of Bacardi Legacy?
Eat, breathe and sleep Gonzo. It sounds cheesy, but in all honest I am a firm believer you get what you put in. The cocktail really works for us at Corner Club and we have quite a lovely and clientele and regular guest basis so that's great to know it's going well right at home. But I'm just going to do my best to connect with the Stockholm and Swedish bar scene. I think starting at home and getting them on board is super important. It's a fun thing to bring the industry together like that, and hope that at the end of it all they believe it in too!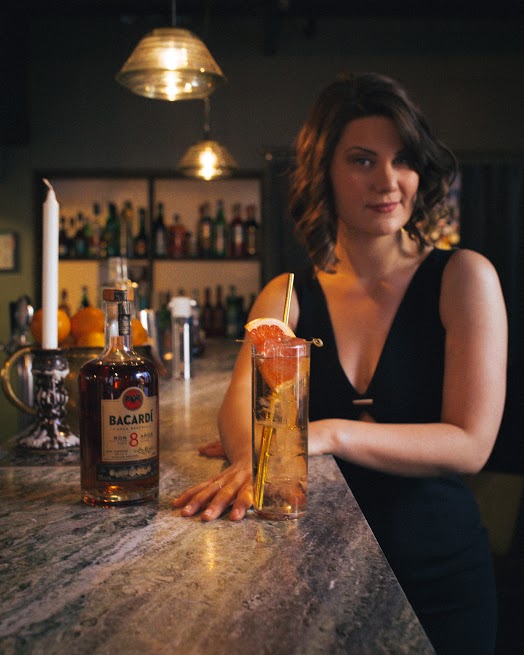 About the job
How did you become a bartender? How long have you worked as a bartender?
I never intended to become a bartender. I actually went to school for International Hotel Management and wanted to work in Events and then operations and thought about having a career with Four Seasons or Fairmont and work in their properties all over the world until maybe one day I would work in their head offices in Toronto. But that all changed when I was completing the 'internship' part of my BA program. The instructions were to: go find an internship, anywhere in the world, doing anything you want, in a hotel. I was looking more for a job in any of the Four Seasons or Fairmont properties in London. Why London? I became obsessed with the idea of living in the UK and having tea all the time, and hearing the British accent and complaining about the weather. In 2012 I ended up lining up an interview at The Savoy for a position in the American Bar as a cocktail waitress. So with a one way ticket, a work visa for the UK, I put all my eggs in one basket so to speak and just went for it! Ended up being offered the job in the director's office one week after arriving, in June 2012. I didn't know anything about cocktails, in fact I remember telling Erik Lorincz (the Head Bartender at The American Bar) my favourite drink was a vodka soda, and if you could see his face then, I swear I still remember the look he gave me. To which then he smiled and said 'just you wait and see what it will be.' It was about one year into my employment at the American Bar when I decided that the bar would most likely be the next step for me. I totally fell in love with cocktails and spirits and it was all thanks to the amazing bar team that I had at the Savoy from June 2012- April 2014. It was in February 2014 that my boyfriend at the time decided he wanted to go cook and live in Stockholm. And with an expiring visa in London and no opportunity to extend and stay, it seemed only perfect to start looking into Stockholm. Two weeks after that was decided Stockholm was a go, Oskar Johansson (my boss at Corner Club) was sitting down in the American Bar having a martini and they happened to be looking for a new bartender, I went over for two trial shifts, one in March and one in April. And just before I was offered the job, my boyfriend of the time pulled out of the idea, and I thought, well, I want to see this through. So I went anyway. I've now been working as a bartender since May 2014 and I've never loved a job more!
What makes a good bartender?
Listen to your guest! What are they looking for, a flavour, a spirit they like? A style of cocktail? Maybe it isn't on your menu, but there is always something you can make them! Most important, be great at service. People are travelling to your bar to spend money on the drinks you've made. Try and be as personable as possible it will make the experience more memorable than just great drinks!
Which is your favorite cocktail to make / drink?
A Gin Martini! Made 2:1, the more vermouth, the better in my opinion. Super classic, always delicious. Ice cold. And served with a twist of lemon.
About "Gonzo"
Tell me about your winning cocktail "Gonzo". How did you get the inspiration for making it? How did you choose it to be your Legacy-cocktail?
Originally Gonzo started as something else entirely. I was extremely certain that it needed to be something I absolutely loved, otherwise I wasn't going to be able to get on board with it. I'm more of a stiff, boozy cocktail drinker, so originally, I wanted to make an old-fashioned style. After two different trial and errors on two old-fashioned style drinks, I sat back down and thought about how maybe an old-fashioned style wasn't the drink …so then from there the two ingredients I held onto were Bacardi 8 and Sherry… I knew I didn't want to add any fresh citrus because it didn't fit my style of cocktails. I wanted that slightly boozy, refreshing drink, no added citrus to really push forward the idea that a modern drink, in today's world doesn't need to call for lemon or lime, that acidity can come from other things, in this case Amontillado sherry and to add the element of publicness, which turned out to be tonic water…With that, I remembered having sherry and tonic and loving that, and then it sprouted into Bacardi 8, Sherry, Tonic and it was actually a suggestion from Oskar for the Maraschino and together we agreed on the grapefruit bitters (sort of Hemingway inspired, maraschino and grapefruit) and once the drink was made and we started talking about Hemingway, I did more research into different authors because I felt that Hemingway has been done, so to move onto a little more rough and tough writer like Thompson, the whole idea clicked. And having a personal connection with writing… I've kept a blog since I left my hometown of Toronto Canada 5 years ago, and once the connection from that, to Thompson, to Bacardi came. The story just started there. What I'm going for here is that, Gonzo will stand the test of time because I have taken the time to write it down. There is a blog you can follow… gonzococktail.blogspot.se to read more about the journey.
Where does the name "Gonzo" come from?
The name Gonzo is a reference to Hunter S Thompson and his legacy Gonzo Journalism. Which is a writing style that is written without objectivity and often includes the reporter into the story from a first-person narrative. So, I try and keep that theme a bit on the blog.
Official Gonzo Recipe, November 2016
Gonzo
35ml Bacardi 8
15ml Maraska Maraschino
7ml Lustau Amontillado Sherry
2 Dashes Scrappy's Grapefruit Bitters
120ml Fever Tree Tonic
Pour all alcoholic ingredients into a highball glass, top with ice and approximately 120ml of Fever Tree Tonic.